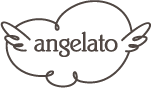 Do you like us? Take us home!
We are a family-run ice-cream manufacturer, who makes ice-cream daily using traditional methods. We allow nothing but the best-quality ice-cream with no artificial substances.
Freshness, variety, creativity and most importantly, high quality is our guarantee that we take what we do seriously.
We enjoy Angelato. And we are proud of it.

Our cream flavors are made from fresh, pasteurized, full-fat milk and cream produced in a family-run dairy in Southern Bohemia and from other natural ingredients – 72% Peru chocolate, Madagascar vanilla beans, pistachio nuts from the Sicilian town of Bronte, Piemonte hazelnuts,… and every month a new flavor you can look forward to.

Sorbets are made from seasonal fruit: strawberries, raspberries, blueberries, blackberries, blackcurrant, apples, pears, plums, apricots, peaches, cherries, sour cherries, … but also from vegetables: pumpkin, asparagus, rhubarb, nettle, cucumber, … and from herbs: peppermint, great basil, … In the summer, when fruits ripen you can treat yourself to a low-calorie dessert with more vitamins. We change our seasonal flavours periodically, and last but not least, they're gluten-free & vegan friendly.

For all of you who are not afraid of original, slightly crazy ideas of tasting a bit of everything that can be possibly tasted, we have unique flavors: parmesan, pumpkin, rice, rhubarb, black elder, avocado, olive, lavender, nettle, …
Come and play along!

Subscribe to our newsletter…to get the latest news
Do you like us? Take us home!
Do not hesitate to contact us